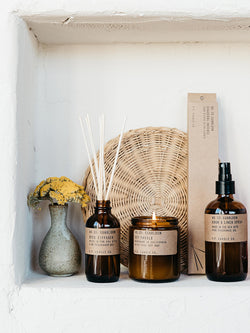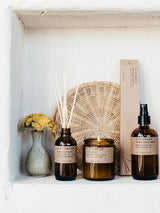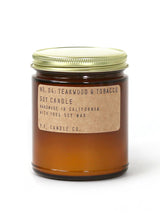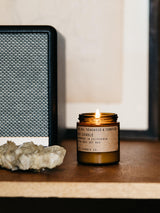 P.F. Candle Co.
Apothecary Soy Candle
Keep your spaces smelling good with any of these incredible scents. Find the larger size here.
Teakwood & Tobacco -The one that started it all. Some call it the boyfriend scent, we call it the O.G. Notes of leather, teak, and orange.

Sunbloom - Day-tripping in the desert, spring's first bloom, infinite blankets of kaleidoscopic wildflowers. With notes of golden-rayed lily, yarrow, and tonka bean. Floral, creamy, and a touch of spice.
Los Angeles, California
by P.F. Candle, Co.
Dimensions: 2.75" x 3.75" / 7.2 oz 
Burn Time: 40-50 hours
Materials: 100% soy wax / cotton wick
Never leave unattended
Maker Note: Our candles are simple: they're all made with 100% domestically grown soy wax, fine fragrance oils, and cotton-core wicks. The fragrances we use are paraben-free, phthalate-free, and never (ever) tested on animals.